There comes a time in every PM's life when you're this close to a project launch and suddenly you and/or your colleagues have a moment: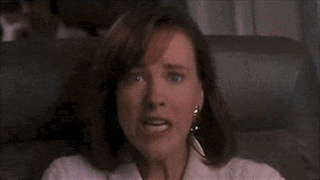 No, you haven't forgotten this adorable little scamp:
You've forgotten testing. Or more charitably, testing has fallen through the cracks.
Last-minute scrambling ensues; frustration abounds; everyone feels like this:
Nobody wants to feel like that (I'd rather sleep in the same bed as Fuller). So how can we make sure testing stops falling through the cracks?
First we need to diagnose the real problem: I think testing frequently gets lost because everyone means something different when they say "testing" or "QA" or "UA" or "end-to-end testing" or "smoke testing."
This makes it tough to pin down what needs to be done, who is going to do it, and when.
The solution? I give you: A Testing Taxonomy!
By breaking down the fuzzy notion of "testing" into concrete types of testing, we can talk in specifics about what work actually needs to be done.
Now that you're hopefully fired up, let's dig into ... testing taxonomy nomenclature! Woo! Party!